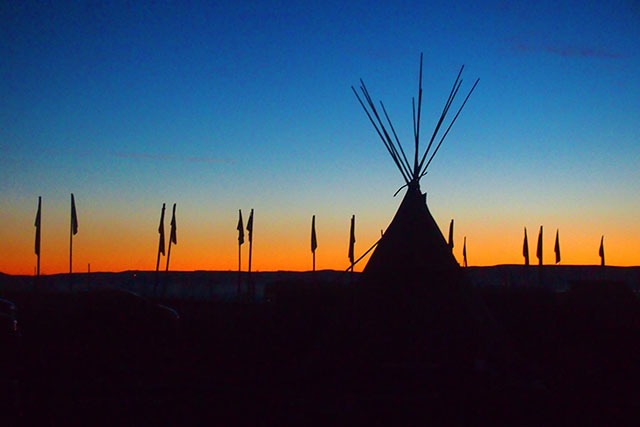 Standing Rock indigenous movement (Photo by United Church of Christ)
Date: December 17
Time: 1:45 PM to 5 PM (preceded by a training in non-violent communication)
Location: Boulder Creek Meeting Room (1st Floor), Main Boulder Public Library, 1001 Arapahoe Ave, Boulder, CO (Please RSVP by emailing us)
Panelists: Dianne Greenwald, Salvatore Caruso, Joseph Lam, Elizabeth Rabia Roberts and Elias Amidon
At our last meeting after elections, our 5-point plan on "where do we go from here" included working on deepening our relationships and solidarity with Black, Native, LGBTQ, common-space activists. Indigenous and other grass-root level activists have long understood and experienced what many of us have just begun to feel: sense of dis-empowerment in our own country, fear that our values, needs or even lives will not be respected. We need to stand in greater solidarity with existing movements, offer them our physical, financial and psycho-spiritual support and learn from their experience. At this gathering,  panelists (all of whom have been to Standing Rock) will share
—- Their understanding of the evolution and the spiritual dimension of the Standing rock indigenous movement
—- How spiritual practices support this movement and how supporting the movement is a spiritual practice?
—- The story of indigenous people beyond this current movement – in the past and into the future.
—- How to support this movement given the ongoing legitimized violent repression?
—- Information on the evolving eco-village near CannonBall on the reservation.
Dianne Greenwald and Salvatore Caruso: Dianne and Salvatore were ordained as members of the Order of Interbeing of the Zen teacher Thich Naht Hanh in 2007. They practice with the Mountain Stream Sangha in Boulder and assist in organizing & facilitating Mindfulness retreats in the USA and Mexico. Dianne spent 25 years in Asia teaching in international schools and supporting Asian village development projects. Salvatore spent 30 years in global marketing and public image development for major advertising & marketing agencies; and had a strategic consulting business for many years in the non-profit and public sectors facilitating strategic and consensus-based workshops for community and civil society based organizations. In recent years, both of them have restyled themselves with two growing food-forest and agro-forestry projects in Mexico and Nebraska. They have both made several long trips to participate in the Standing Rock indigenous water protector movement in North Dakota at the reservation. They both have been part of an 11 year history of healing with the Little Thunder family who represent the clan massacred in 1855 along Blue Creek where Dianne Grew up.
Joseph Lam (Chan Tue Nang): Joseph has been a student of Thay Thich Nhat Hanh since 1994 and has led retreats in various European countries, integrating Lakota Native spiritual teachings with Buddhist teachings. Over the past 35 years, he has done extensive volunteer work, assisting Medicine Men throughout Turtle Island (North America), elders and at-risk-youth on Pine Ridge Indian Reservation, street children in Nepal, and peace and social justice work. He feels deep gratitude and joy to be able to offer some spiritual teachings with sisters and brothers on the path of compassion, peace, and awakening.
Elizabeth Rabia Roberts and Elias Amidon: Elias is the spiritual director (Pir) of the Sufi Way. He has been an initiate of the Sufi Way for the past 44 years, and was appointed as the Pir of the order in 2004. Elizabeth began her activist work with Martin Luther King in Selma in 1965 and has studied with both Fr. Thomas Berry and Joanna Macy to became an educator in the fields of deep ecology and eco-psychology. In 1999, they both began an international pilgrimage of service — teaching, leading interfaith retreats and solidarity walks, bearing witness to injustice and conflict, and testifying to what she experienced. They co-founded The Boulder Institute for Nature and the Human Spirit in 1994. Its Path of the Friend programs promote citizen diplomacy, cross-cultural awareness, spiritual awakening, and just relationships among people and between people and the land. The Institute seeks to create modes of activism in which a spiritual and moral witness can be brought to bear upon the political, social and environmental issues of our time.
Resources (How to help)
Organizational and educational information
— Organizing Meeting Every Wednesday at Four Winds American Indian Council, Denver
— Facebook resources:  Standing Rock Sioux Tribe and Sacred Stone Camp
Divesting Boulder from DAPL march/event on Dec 6: City of Boulder and Boulder County are currently engaged in primary banking with one of the top banks financing Dakota Access Pipeline (DAPL). Most important hour to join this long event 11:30 to 1 pm. RSVP here
To donate money and supplies
— Boulder residents: Donations and supplies through Unity of Boulder
— Donate to support the Oceti Sakowin Camp
— Donate to support the Standing Rock Sioux
— Donate items from the Sacred Stone Camp Supply List
— Contribute to the Sacred Stone Camp Legal Defense Fund
— Contribute to the Sacred Stone Camp gofundme account
— Donate to the Standing Rock medics
— Contribute to the medical fund for Sophia Wilansky who is on the verge of losing her arm because of police violence
Opposing financial institutions funding the pipelines: Many banks are supporting the pipelines with millions of $$ as loans or revolving credits. Please withdraw money from these banks and instead supporting credit unions that usually don't invest in pipelines. We can also plan non-violent direct action against their policies (but with deep love for the people working for these institutions):
See research by Food & Water watch on which banks are supporting pipelines
How to Contact the 17 Banks Funding the Dakota Access Pipeline
Boulder county residents engage in non-violent direct action at Wellsfargo bank
Contact People Sending Militarized Police to Standing Rock: An extensive list of contact phone numbers, emails and social media accounts (Link)
For #NoDAPL and #Nativelifesmatter inspiration
— BARBARIC Dakota Access Oil Police Cause Mass Hypothermia
—  Police Attacked Standing Rock Activists For Hours. Why Are They Calling It A Riot?
— Democracynow VIDEO: Pipeline Company Attacks Native American Protesters with Dogs and Pepper Spray Link
— VIDEO-Song: An amazingly inspiring video-song by a Native singer in support of #No DAPL & a cry for action Link
Native tribes suffer when rivers get polluted:
— If you thought pipelines don't leak: Two US state emergencies don't lie (2016)
— Navajo Nation mourns Toxic Mine spill in Colorado, 2015
Other ongoing land-grab/mining and Native lives matter issues and petitions:
— Free Leonard Peltier (Peitition embedded in the website) link
— Video "Don't drown our culture" (8 minutes) on the effect of Shasta Dam Raising on Winnemem Wintu tribe: In the early 2000s, it started to become evident we might relive the same nightmare as the Bureau of Reclamation (BOR) started seriously investigating a Shasta Dam raise from 6-feet to 200-feet to increase the supply of irrigation water for large agricultural businesses. The BOR sees this as a viable alternative even though just as much water could be produced through conservation measures or by treating the 60-feet of sediment that has collected at the bottom of Lake Shasta in the past 70 years."  
— Sign this petition: Stop the plan to flood Winnemem Wintu sacred lands | CREDO Mobilize
Want to add anything to this list? Please contact Kritee (Kanko) with subject line (add to Standing rock resources)