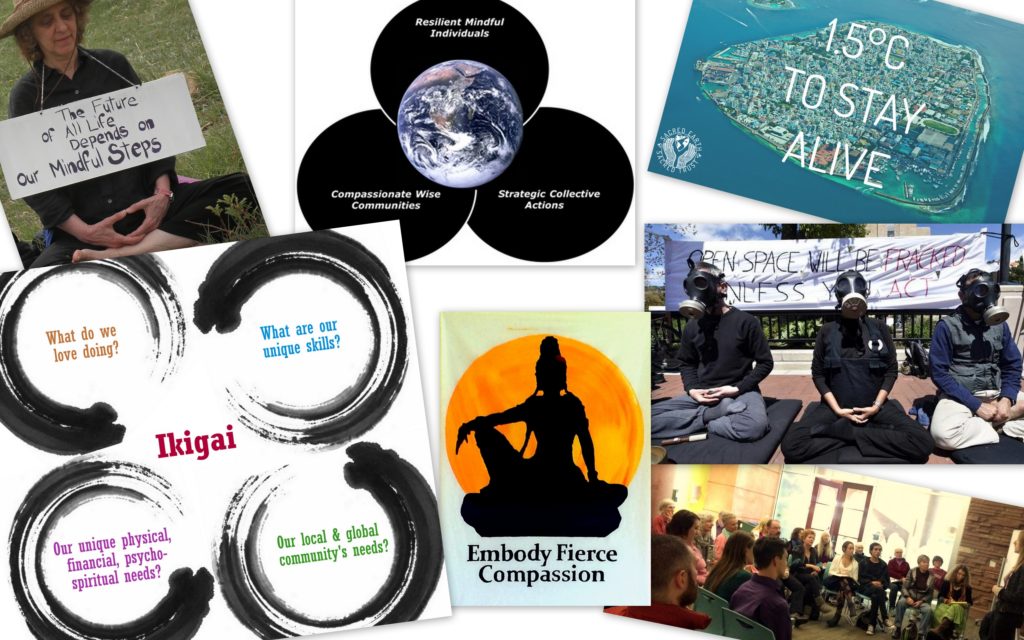 Boundless in Motion is a 501(c)3 non-profit based in Boulder (Colorado). Founded by two Zen-Buddhist Climate Scientists, we are a community that hosts in-person and online gatherings, workshops and residential retreats at the interface of trauma healing and strategic actions. Our programs weave Zen, mindfulness, grief/rage ceremonies and other embodiment practices. We also do research, advocacy and coaching for indigenous, climate, racial and gender justice.
In addition to wisdom and compassion, facing our ongoing socio-ecological crisis requires spontaneity and agility. Therefore, in our praxis and framework for creating sustained changes in real time. Historically, we have been organized around what we refer to as the three pillars of Ecodharma. Our meditation retreats and grief-rage sharing circles focus on the pillars of individual-level healing, psycho-spiritual opening and community resilience.  We wish to weaken the inseparable systems of oppression (racism, speciesism, neoliberal economy and income disparity, gender-based violence etc) and promote community uplift. The goal of our offerings such as Dharma of resistance has been to strategically prepare participants to take climate and racial justice actions in teams within the larger framing of three pillars of Ecodharma.
Please consider our daily/weekly meditation (zazen), Zen (sesshins), contemplative retreats for people of color, ecodharma practice circles or other public events.  Explore our online offerings including dharma talks (teishoes), presentations and articles on our ongoing ecological crisis.
Needless to say, we extend a special welcome to those who identify as LGBTQ, black, indigenous and other people of color to join us and bring diverse perspectives to our practices, frameworks and theories of change.
We acknowledge that we live on lands historically and systematically stolen from the Arapahoe tribe. Boulder valley in Colorado was also visited by Utes, Cheyennes, Comanches, and Sioux peoples. We are constantly striving to move beyond land acknowledgement and using our resources to empower and protect indigenous communities.