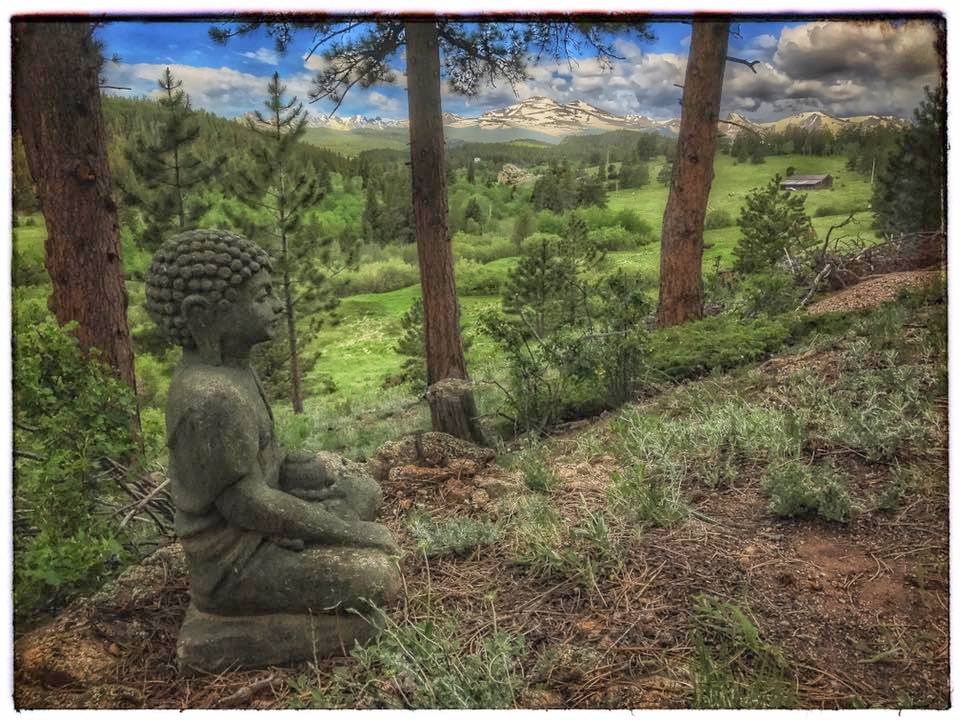 — Are you feeling ready to deepen your meditation practice in a community that is rooted in the Buddhist lineage of Rinzai Zen and incorporates trauma/grief healing techniques as well as lessons from Kingian/Gandhian Nonviolence? 
— Do you feel burnt out and/or overwhelmed and need to recharge in a quiet and emotionally safe space where we gently witness and honor each other's experience even as we stay verbally silent most of the time? 
— Are you curious about how we can build a rigorous spiritual practice that supports our collective movement for justice and peace in the times of climate breakdown and innumerable social injustices? 
If yes, come join us at the stunningly pristine and healing Rocky Mountain Ecodharma retreat center (RMERC) for a Zen and Ecodharma retreat. 
Regardless of vaccination status, PCR testing 3 days before the retreat starts and rapid antigen testing on the day of retreat is required to be to join this retreat. Please do not arrive at the retreat center if you have any flu like symptoms (Fever, body aches, sore throat, cold, loss of taste/smell or stomach issues).
Venue, Date and time
May retreat: May 2-7, 2023 (Five days)
September retreat: Sep 24 – October 1, 2022 (Seven days)
Rocky Mountain Ecodharma Retreat Center
With
Sensei Kritee (Kanko) & Dharma leader Imtiaz Rangwala
Explore our (Eco)Dharma teachings and articles
Cost & scholarships
No one, especially LGBTQ, black, indigenous and other people of color, will be turned away for lack of funds.
Seven days (in person): $650
Five days (in person):  $450       
Weekend (in person): $250
Dana for sesshin leaders will be welcome.  With support from RMERC, we can offer partial scholarships for people of color, LGBTQ, full-time grassroots activists, people between 18-30. If you are in need of a scholarship, please talk to us. If you can support sesshin participation of others, please let us know. We are sorry to not be able to offer any refunds within two weeks of the retreat. The retreat center expects full cost from us within 45 days of the retreat.
Registration
You can fill this online form. Please save/print the online form as PDF before hitting submit because some browsers have an issue sending the form across. If you don't get a message saying your form has been submitted and think your application hasn't reached us, please download and fill this WORD based form (or the saved PDF form) and then email to kritee AT boundlessinmotion DOT org and get access to detailed instructions!
Daily schedule
Our sangha takes a trauma informed approach to healing, awakening and changemaking. As a result, at our retreats, we combine practices from the ancient tradition of Rinzai Zen with our current understanding of what individuals need to face and release our trauma. Each day will include indoor zazen (seated meditation), outdoor meditation (by trees, bonfire or flowing water), kinhin (group walking meditation), deep abdominal chanting, opportunities to share our experience with other participants, a talk at the interface of Zen and Ecodharma teachings, rest periods, samu (silent work periods to prepare food) and dokusan (private interview with the teacher). We will have time in the afternoons for personal extended time in nature. Food preparation will be led by brilliant chef and dharma teacher Imtiaz Rangwala. The food served will be vegan and we will always have gluten-free options. For detailed schedule for the week, please visit this page.
Legal waiver Please read this page before arriving. Everyone will need to sign it when they arrive.