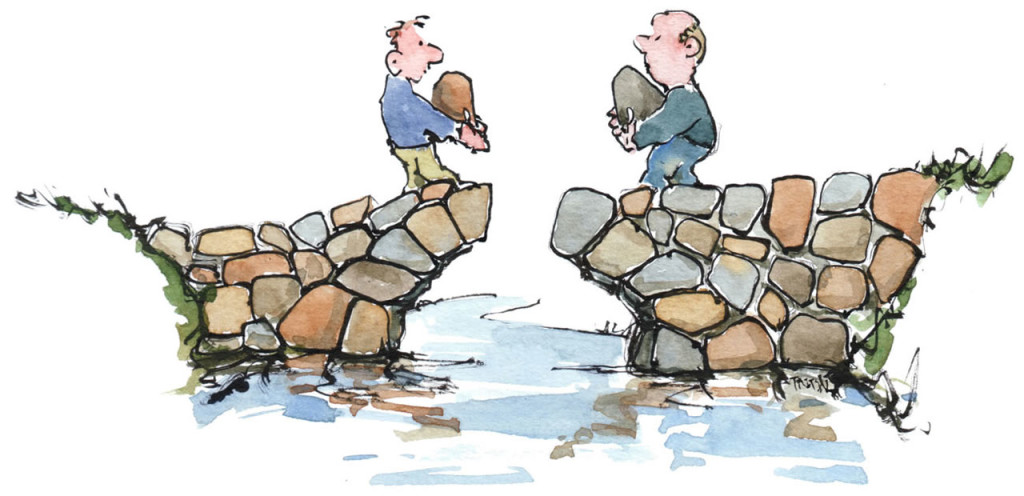 Who adds that last stone to build the bridge? 
Non-violent dialogue: Finding out where people are and meeting them there
Date: December 17
Time: 10:15 AM – 12:45 PM (Followed by packed lunch and a panel on Standing Rock movement)
Location: Boulder Creek Meeting Room (1st Floor), Main Boulder Public Library, 1001 Arapahoe Ave, Boulder, CO 80302. (Please RSVP by emailing us)
Speakers: Grant Fuku Couch, Candace Walworth, Myrlinda J. Huff
At our last meeting after elections, our 5-point plan on "where do we go from here" included working on the realization that we have been operating within our echo chambers. Even our social media feeds reflect our own point of view back at us (analysis of blue vs red feeds on same topic). We need to understand what drives our families, neighbors or colleagues to conclusions that we don't agree with them. We need to learn to listen deeply and open-heartedly without defensiveness.
On this morning, we will work with our panel to begin to train ourselves in engaging in difficult but non-violent conversations with "conservative" leaders and/or friends. We will start with an introductory discussion on non-violent communication in these times. Then, we will move into an hour-long focused interactive training session called "Stepping Across the Aisle – At Home, in the 'Hood and on the Hill" on climate and energy issues designed by Grant. The training and the discussion will cover:
— How spiritual practices support non-violent dialogue and how this dialog is a spiritual practice?
— A framework to understand different worldviews/cultures/moral foundations
— Need to avoid trigger words whose meaning changes according to worldviews
— Practical factors that can lead to mutual learning amidst differences
— Role of contemplative practices in developing non-violent dialogue skills
We plan to do a wider training on non-violent communication that includes social issues in the spring. See a list of resources below.
Grant Fuku Couch, Sensei, is the Co-Founder of the Conservative Caucus of Citizens Climate Lobby which implies that he spends his time convincing conservative leaders and politicians in the country to adopt a solution for our energy and climate predicament. Following his retirement as President and COO of Countrywide Capital Markets in 2008, he served as the Chairman of Manhattan Bancorp until 2015. After attending a bearing witness retreat at Auschwitz, he began working closely with Bernie Glassman and Zen Peacemakers' three tenets.  Bernie Glassman recently recognized Grant as a dharma successor.
Candace Walworth serves as the Chair of Naropa University's undergraduate Peace Studies program. In this role, she designs and facilitates learning communities that encourage and support personal discovery and voice, dialogue and deliberation, creativity, service, and community engagement. Currently, she also serves as the Chair of Naropa's Faculty Senate, a role ripe with opportunities to practice in the spirit of nonviolent communication, even if not "by the book." Her teaching and research interests include socially engaged spirituality, the socially engaged imagination, and the practice of dialogue in conflict transformation.
Myrlinda J. Huff is a native of Arkansas and currently a senior molecular and cellular biology student at CU Boulder. As a woman of color, she has been passionate about politics and social justice reform for many years.  She was involved with Hands up NWA before moving to Boulder. She has worked with United Students Against Sweatshops and was briefly the people of color caucus co-chair for this national organization working to push schools toward adopting policies preventing the sale of clothing made from sweatshop labor. She has engaged in deep non-violent dialog with people who oppose Black Lives Matter movement.
Resources:
— The Righteous Mind: Why Good People Are Divided by Politics and Religion (by Jonathan Haidt)
— The Little Book of Dialogue for Difficult Subjects: A Practical, Hands-On Guide (by Lisa Schirch and David Campt)
— Grant Couch's Powerpoint presentation
— Engagement Streams Framework, National Coalition for Dialogue & Deliberation
— How Could You? 19 Questions to Ask Loved Ones Who Voted the Other Way
— Why Trump voters are angry (Relationship between economic and racial anxieties)
— Guide: Faith and Climate Change – Talking with People of 5 Major Faiths
— Showing up for racial justice toolkit for holidays: Bringing justice home
— 10 Clean Energy Facts That Could Bring Us Closer Together This Thanksgiving
— How to win your next political argument?
— How to Argue Fairly and Without Rancor?