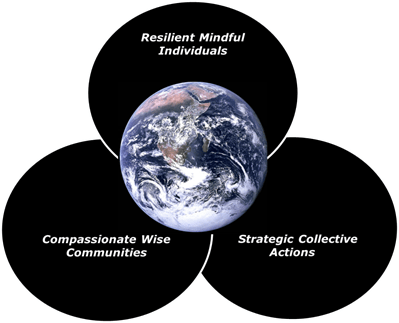 Boundless in Motion is an "engaged spirituality" organization aimed at building a spiritually rooted movement towards justice, equity and inclusion for all life on the planet. We are based in South Boulder, Colorado.
We are organized around what we refer to as the three pillars of Ecodharma. Our meditation based gatherings focus on the pillar of individual-level psycho-spiritual healing and resilience. Boulder Eco-Dharma Sangha and its practice circles are our "projects" that focus on community-building for strategic education and action on issues such as climate, local fracking, economy, permaculture, consumerism, homelessness and racism in the country.
We invite you to join us. Please join us for weekly meditation (zazen), Zen (sesshins) or other contemplative retreats, ecodharma practice circles or other public Eco-Dharma events.  To meet our ecological predicament with authenticity, wisdom and compassion, explore our online offerings including talks, presentations and articles on our ongoing environmental and ecological crisis.