Buddhist #Stopline3 Water Protectors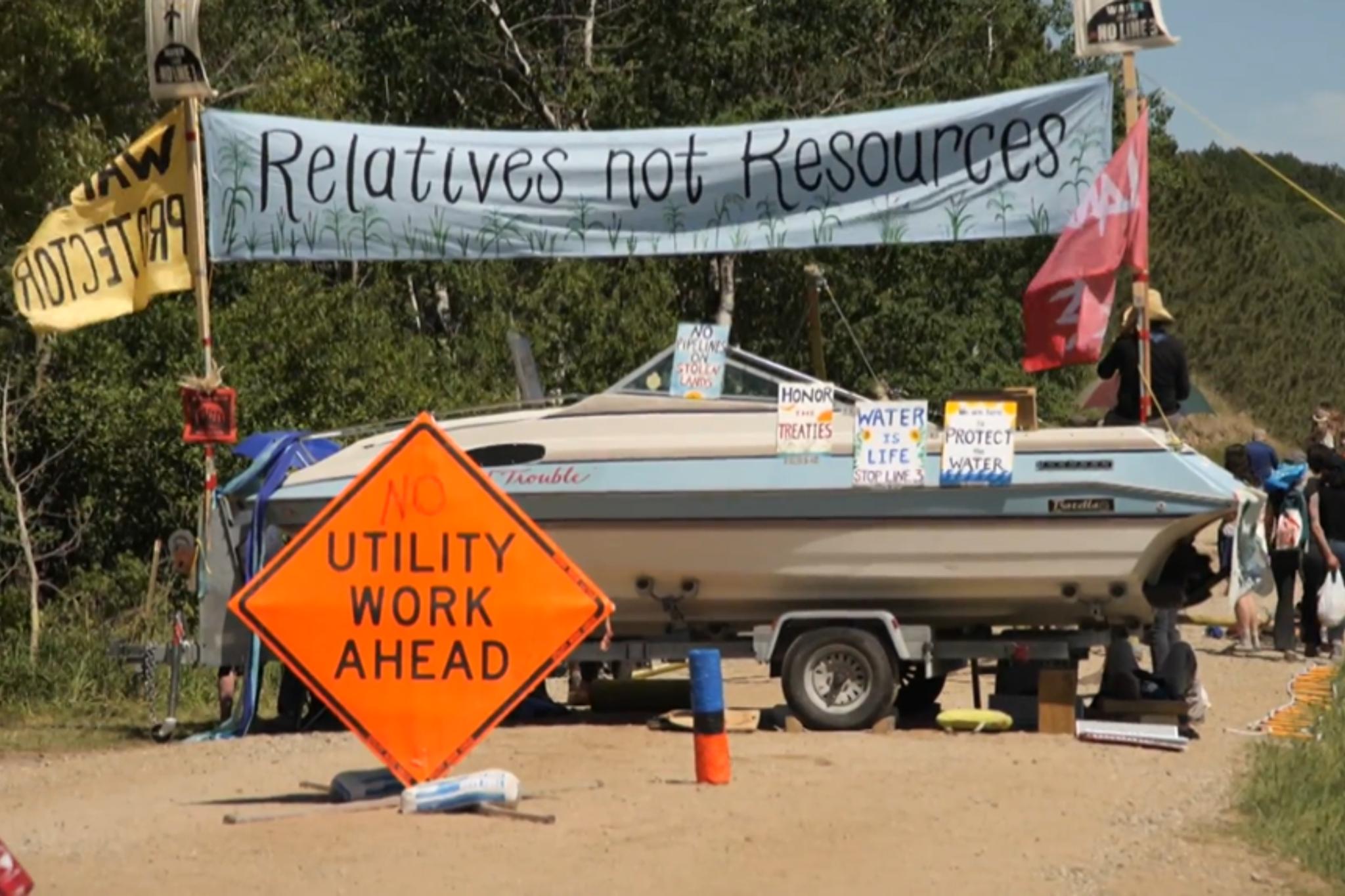 Background
Line 3 is a tar sands oil pipeline that is currently under construction through untouched wetlands and treaty territory of the Anishanaabe people. The Indigenous women-led resistance to Line 3 has been happening for several years, yet has recently been heating up in the face of construction through untouched, pristine wetlands and Anishinabe wild rice fields, violating Tribal treaty rights. This pipeline's men camps are also adding to the epidemic of missing and murdered indigenous women. The Enbridge Company's Line 3, if completed, would carry nearly a million barrels of Canadian tar sands oil per day from Alberta, Canada to Superior, Wisconsin and put 800 wetlands and 200 bodies of water at high risk of contamination.  Line 3 would have the equivalent climate impact of 50 new coal-fired plants, or 138 million new cars on the road.  The Indigenous-led Water Protectors have been protesting its construction by putting their bodies on the line. They hope to get the attention of the Biden administration, which after shutting down the Keystone pipeline, remains deaf to Line 3's similar desperate situation and to the calls of climate scientists, environmentalists, activists and young people whose future is at stake.
Our sangha's participation in the movement
On July 18th, three members of our sangha shared some of their experiences during a recent trip to Minnesota to stand with Indigenous Water Protectors to resist Line 3.  Our sangha is very proud that taking collective action with others who were there during 5-8th June, their  halted pipeline construction for two full working days starting on June 7th. 
The direct action on June 7th resulted in some two hundred arrests of water protectors. The pump station was occupied into the night while other activists locked themselves to a boat barricading the access road for nearly 36 hours. The action was a resounding success, disrupting the construction of the pipeline for two days and receiving coverage from a broad range of media outlets, including The New York Times, The Washington Post, and Democracy Now! You can watch an overview of the action here.
Video recording
Here is the video recording (Passcode: StopLine3#) of the event.
Support the water protectors financially 
If you would like to make a contribution to the legal and court related travel fund for the larger affinity group of about 20 water protectors that these three Buddhist practitioners from our sangha are associated with, you can donate using this GoFundMe page. Donating through the GoFundMe page or by directly sending funds to Pax Fauna can give you a 501(c)3 tax exemption receipt.  You can still send our sangha's teacher Kritee Kanko money via Paypal (this link) or Venmo to @Kriteekanko but she won't have the capability to provide 501(c)3 receipts. 
Resources
Shared during the presentation and/or to learn more
— June 7 action video (6 minute): Video
— Tara Houska, Tribal lawyer and Line 3 resistance leader speaking about the pipeline resistance and climate crisis: Video
— For media coverage
——– Giniw Collective: Indigenous women-led and two spirit led resistance and media collective
——– Unicorn Riot:  De-centralized independent broadcasting and media that does live coverage of many Line 3 actions
——- Stopline3.org; Learn more about the resistance to stop Line 3 
Please feel free to forward this webpage to anyone you know who is interested in confronting the climate crisis and systemic racism.