Honoring & transforming our emotions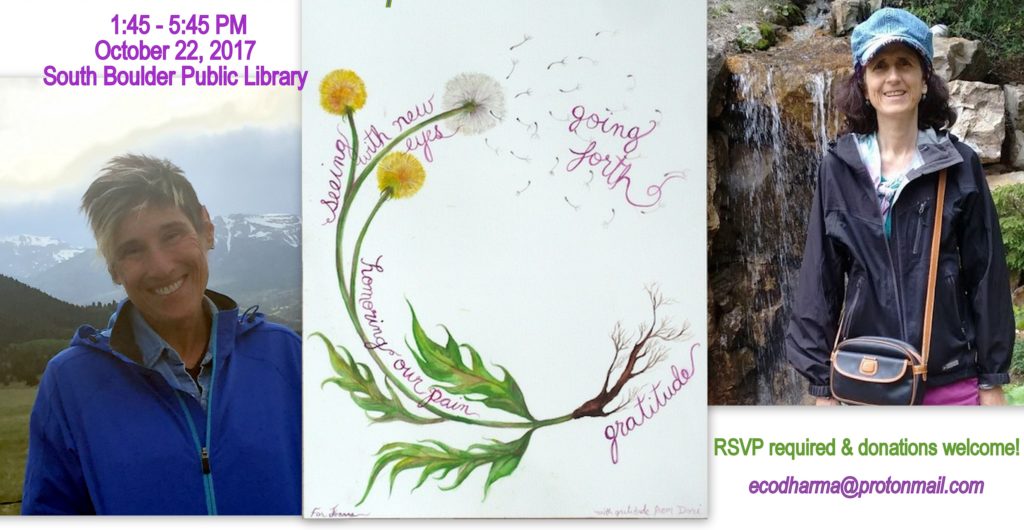 Date: Sunday, October 22 2017 (1:45 to 5:45 pm)
Location: George Reynolds Public Library, 3595 Table Mesa Dr, Boulder, CO 80305
Facilitators: Oak Chezar and Isabelle André
Cost:  None.  Donation (dana) for hurricane relief & BEDS will be appreciated.
RSVP: Please RSVP via eventbrite and we will send more instructions on how to prepare for this gathering!
This gathering will focus on deeply acknowledging and then transforming our emotions around our work as social justice and environmental advocates. Our facilitators for this gathering have both long delved in "The Work That Reconnects" practices designed by Joanna Macy, our beloved Ecodharma elder. This gathering is just about an year after the last Presidential elections and will give us a chance to reflect upon all that has unfolded in the country and how it has impacted us emotionally.
Oak Chezar is a professor of Gender Studies, a performance artist in Vox Feminista, a psychotherapist and a writer. She's been an anti-nuclear, environmental and social justice activist for over 30 years, and a student of Joanna Macy's for over a decade. She recently published her memoir of living in a women's encirclement of a nuclear weapons base, called "Trespassing". She lives in an off-grid straw bale house in Jamestown, from which she agitates for change, and carries water.
Isabelle André has been a practitioner in the Zen and Vedanta traditions since her 20s, as well as an activist, with focus on Women's Rights and Global Access to treatment for AIDS, Malaria and Tuberculosis. In these decades, Isabelle often experienced activism as being tainted with the same mind-frame as the world it tries to change. She believes that grounding practices are essential for activists, and has been involved in more sacred approaches, such as taking part in ceremonies while occupying nuclear silos, or making a silent pilgrimage to a nuclear test site. She has found The Work That Reconnects (WTR) to be a level-playing field where all voices can be heard, a way to balance the urgency we feel as activists with a perception of deep-time, and a means to foster Group Mind which she humbly learned from Africans in the midst of severe crises and conflict.