Ecodharma leaders gathering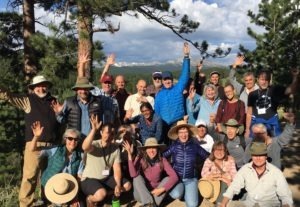 In a first gathering of its kind, twenty seven ordained and lay Buddhist teachers and eco-justice advocates active in the Front Range of Colorado came together at Rocky Mountain Ecodharma Retreat Center (RMERC) from 15th to 18th August.  During the packed weekend schedule, they shared a) their feelings and pathways for facing and transforming emotions like grief, fear, anger and confusion in these times and for building our local community's psycho-spiritual resilience b) Indivisibility between social injustices and ecological crisis with respect to causes, impacts and solutions c) Bottom-up (grassroots direct action) and institutional (e.g., carbon pricing) approaches to resist forces that are perpetuating harm and d) the role of Buddhist leaders in these times of socio-ecological emergency. Their intense discussions were punctuated with meditation, group hikes, chant/songs and just being silently together. 
Most participants appreciated a sense of connection with their peers in their efforts to build community resilience. This gathering was organized by Kritee (Kanko) and David Loy with wholehearted logistical support and guest facilitation from all RMERC board members, resident managers and participants. The Buddhist backgrounds represented in this gathering included Theravada, Soto and Rinzai Zen, Tibetan lineages, Insight meditation, mindfulness and other non-denominational groups. A complete list of attendees is available here.
Please check our pre- and post-gathering reading lists as well as resources on connections between Climate and White supremacy.
This group continues to interact over emails and as small study groups to advance its own understanding of the root causes of our current predicament as well as to plan actions together. We have tentatively agreed to meet several times a year and the next gathering (December 1st, 2019) will be hosted by Zen teachers Shinko and Shishin at Maitreya Abbey (Berthoud, CO).
More photos