Decolonizing climate activism
Date: Saturday, March 11, 2017 (2 to 5 pm)
Location: Boulder Creek Meeting Room (1st Floor), Main Boulder Public Library, 1001 Arapahoe Ave, Boulder. (Please RSVP by emailing us)
Speakers: Katie Loncke and Kristin Barker (through video-conference)
Cost:  None. Sharing of snacks, volunteers will be appreciated. Financial dana will be divided between our guest speakers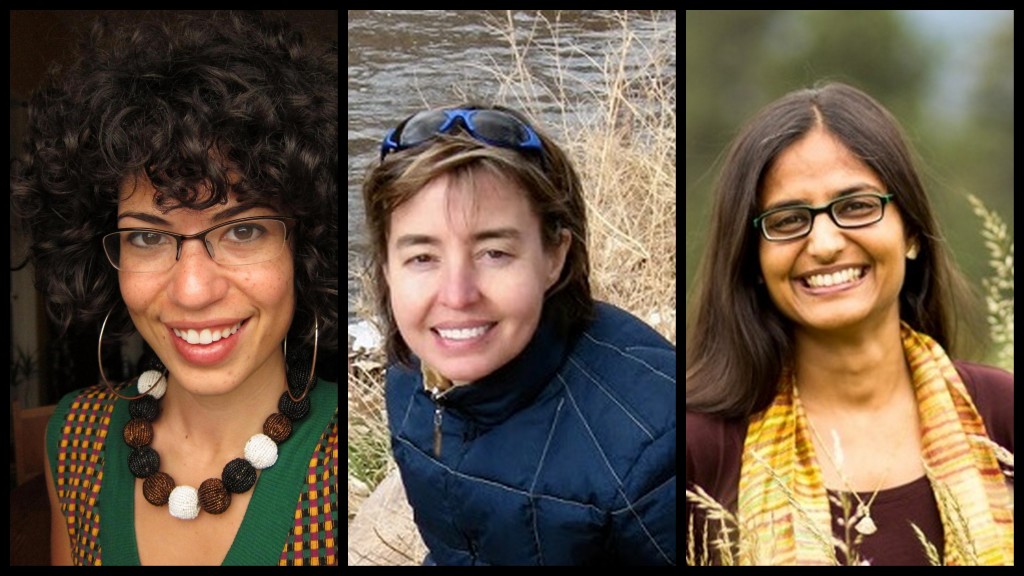 Given the recent changes at the national level, many regional and national social justice issues are rightly inviting most of our time and resources. How do these issues intersect with activism for climate justice and climate mitigation? What can make our activism in Boulder, which is a very privileged city, be deeper and most fulfilling in these times? What have our speakers learnt from working with activists from different racial and socio-economic backgrounds? What is the place of non-violent direct action in the ecology of movement building necessary in these times? In addition to posing these questions, Ecodharma steering committee member Kritee (Kanko) will ask both our speakers questions pertaining to the three pillars of Eco-Dharma (see three pillars mind map and article) to bring out how their personal dharma practices, community building and strategic action are interwoven for them.
Kristin Barker (Director & Co-founder, One Earth Sangha) is exploring what it means to practice a Buddhist response to environmental and social injustice. She is dedicated to cultivating broad-scale awakening to authentic earth relationship through meditation, sustainable living and advocacy. Kristin is a former board member of the Buddhist Insight Network, GreenFaith fellow and is currently being trained as a Community Dharma Leader through Spirit Rock. Kristin is also a co-founder of White Awake whose mission is to develop awareness of race dynamics among white people. She holds a Master's in Environmental Management from Duke University, has worked as an consultant and staff member at several environmental organizations. Kristin is a native of New Mexico and currently lives in Washington DC.
Katie Loncke (Co-Director, Buddhist Peace Fellowship), born in Sacramento, California, and now living in Oakland, is the curly granddaughter of Negros and Jewish refugees. She believes in the possibility of enough food, water, shelter, clothing, health care, and education for everyone. She started organizing in high school as a straight ally with a Lesbian Gay Straight Alliance, and currently organizes around social and economic issues with a group led by Latin American immigrant socialists. Following her graduation from Harvard, the Cambridge Insight Meditation Center offered Katie a warm, life-altering introduction to Buddhism. Her writing on Buddhism and politics has appeared in The Jizo Chronicles, The Buddhist Channel, make/shift magazine, Flip Flopping Joy, and Feministe, as well as on Buddhist Peace Fellowship's Turning Wheel Media.
Resources
— Interactive Time-Lapse Map Shows How the U.S. Took More Than 1.5 Billion Acres From Native Americans (see even more details here)
— Decolonizing Environmentalism: Step One