Women of Color Ecodharma Retreat
Cancelled due to the pandemic!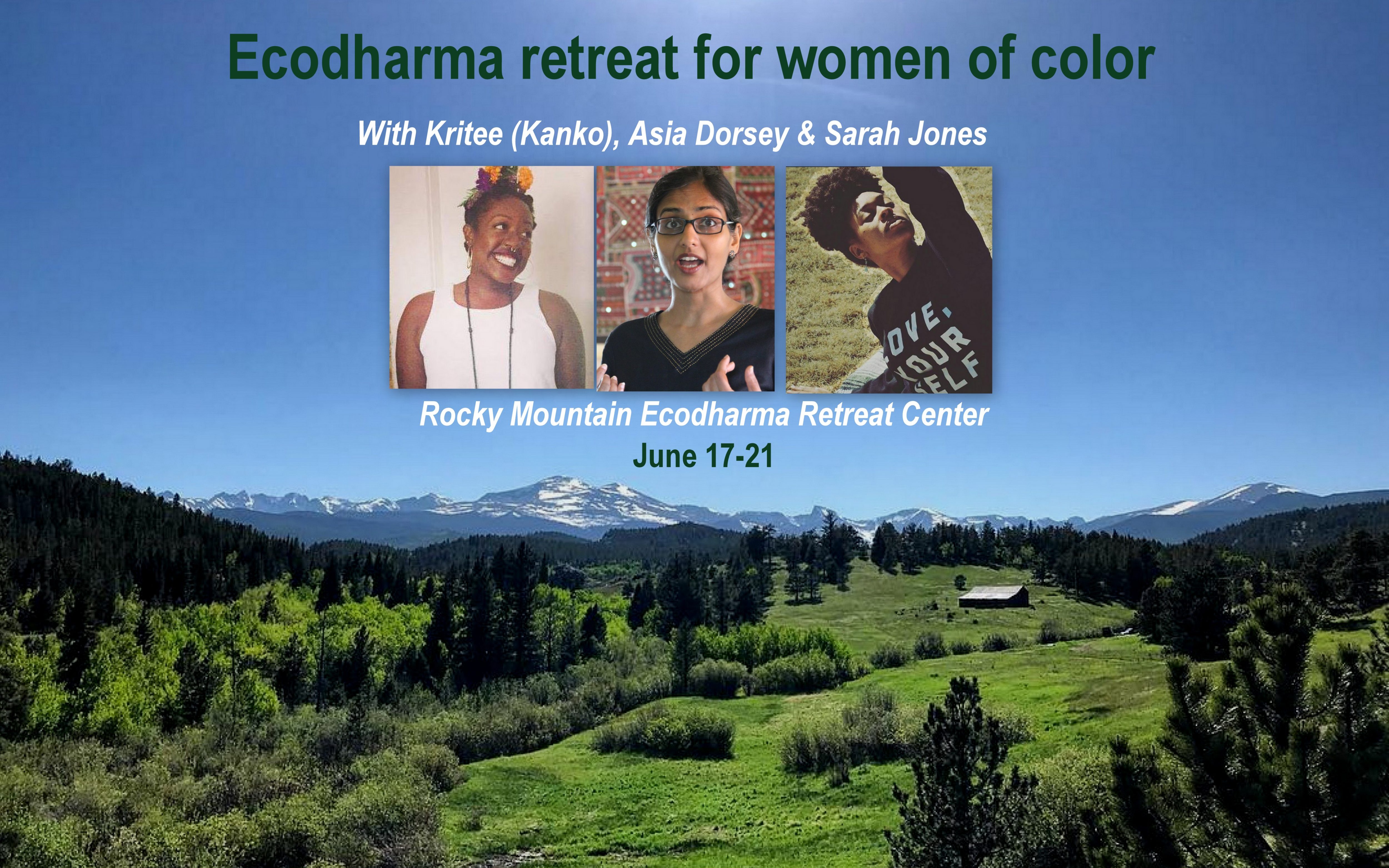 — Do you self-identify as a woman of color and work within the climate & social justice movement?
— Do you feel burnt out and/or overwhelmed and wonder if and how our emotions can be our strength?
— Can we build a movement that is rooted in our deepest spiritual values or can we engage in advocacy such that it is an integral part of our spiritual growth?
— Do you feel yoga and meditation can help release internalized white supremacy and other stresses lodged in our bodies?  
If yes, come join Boundless in Motion (BIM) and Satya Yoga Cooperative at the stunningly pristine and healing Rocky Mountain Ecodharma retreat center (RMERC) for a retreat designed for empowering self-identifying women of color who work for the climate and/or social justice movement. You could be a climate-mom, direct action leader, climate scientist, journalist, lawyer, community organizer, author or storyteller. Through silent hikes, meditation, yoga, gratitude/grief/rage rituals and other group-work, we will explore how we can deepen activism as a spiritual path, learn to honor and transform our emotions, face the root cause of our suffering, act with deep compassion & courage in these difficult times.
Venue & Date
June 17 –  21, 2020
Rocky Mountain Ecodharma Retreat Center
With
Kritee (Kanko), Climate scientist, Zen teacher, Co-founder of RMERC & BIM
Asia Dorsey, Satya Yoga Co-op Co-founder, Herbalist & Dreamworker
Sarah N. Jones, Satya Yoga Co-op Teacher, Diversity Educator & Farmer
Schedule
Please check our draft schedule here. Each day will include meditation, yoga, and silent hiking periods.  Every day, there will be two extended sessions that will include talking and discussions. These sessions will discuss how our bodies store and remember stresses, how can we release these stresses through movement, meditation, rituals, group-work. We will also use some of The Work That Reconnects spiral practices that tap into our gratitude, our spiritual ground of being, express grief/anger/despair/fear and inspire actions.

Cost
Sliding scale: $500-800
No one will be turned away for lack of funds if the application is selected. Partial & full scholarships will be available. We invite people with capacity to donate to generously support this gathering. Teachers will also be supported by voluntary donations (dana).
Application
Please fill this form to apply. We can have a maximum of 26 attendees. All applicants must self-identify as woman of color (WoC). Within WoC, we are aiming for a diversity of age, geographical, racial and organizational backgrounds.  To that end, we have reserved five spots for young people under 25 and will give priority to grassroots group members.
Please be reminded that the retreat center is at high altitude (~8500 feet) and might not be convenient for people with lung/heart condition.  The center is also not yet wheelchair accessible.