Ecodharma: A 13 week online course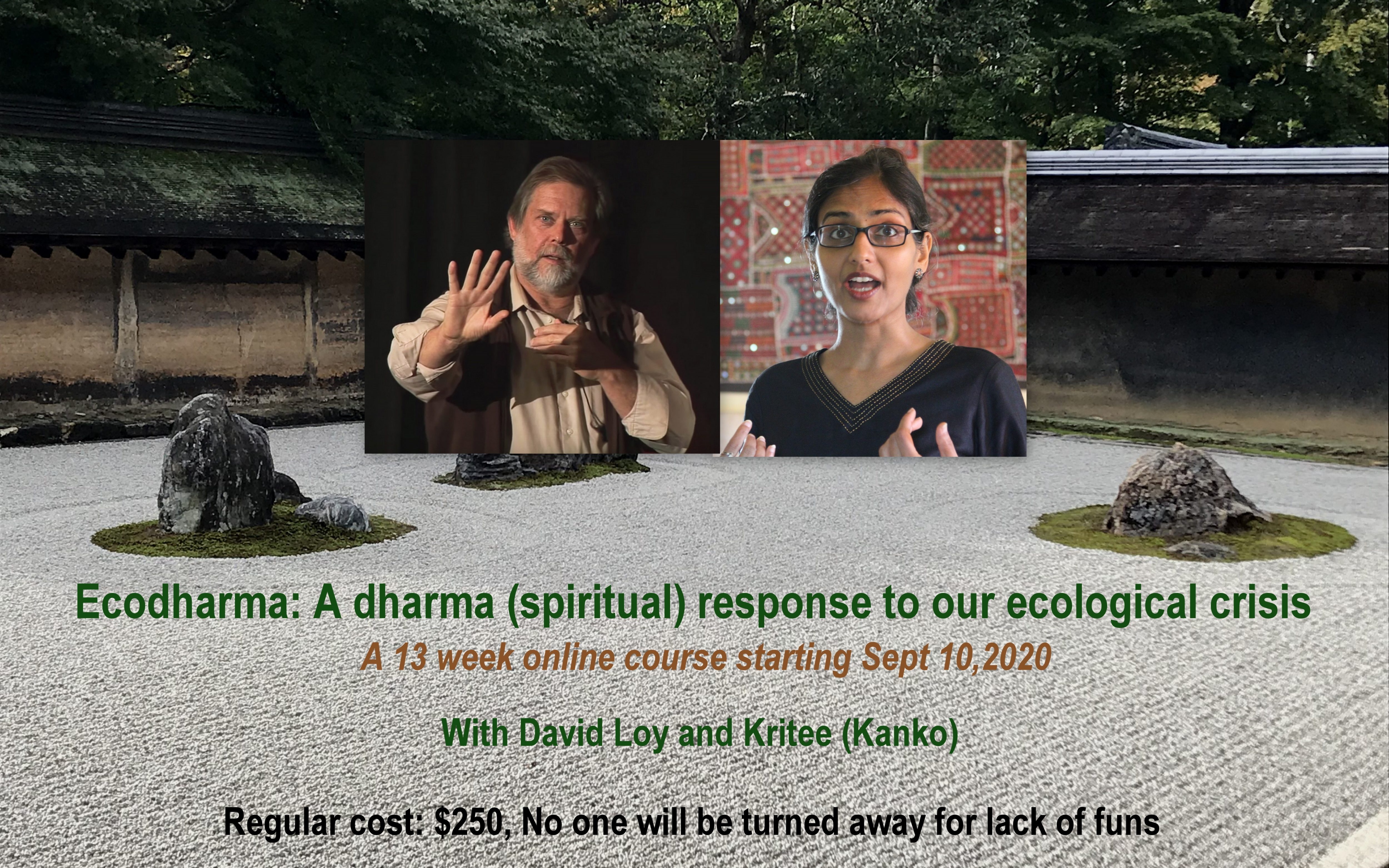 — How can we respond urgently and effectively to the ongoing climate emergency and the larger ecological crisis—and stay sane doing it?
— How do we understand the interconnection of environmental degradation with colonialism, racism and neoliberal economics?
–What contemplative/spiritual principles and perspectives can help us forge a response to our ecological predicament?
— How to we "compost" of our own collective grief and anger to be able to face these times with courage and clarity?
–How do we form awakened communities that will be necessary to confront and transform our current global exploitative socio-economic systems?
Please join David Loy and Kritee (Kanko) two of the cofounders of the Rocky Mountain Ecodharma Retreat Center (RMERC) to explore over 13 weekly online sessions on how we can deepen our spiritual paths, honor and transform our emotions, act with deep compassion & courage to create awakened communities that will act courageously in these times of climate emergency and other socio-ecological injustices. 
Venue & Date
Sept 10- Dec 10, 2020 (No class on Thanksgiving)
Online Zoom sessions every Thursday 6-7:30 PM (Mountain time)
With
David Loy, Zen Teacher, Philosopher and Author
Kritee (Kanko), Climate scientist & educator, Zen teacher, Grief-ritual leader


Cost $250 (Not for credit)
Please apply through Shogaku Institute if you need M.Div credits
No one will be turned away for lack of funds. Partial & full scholarships will be available especially for those who identify as black, indigenous and other people of color and LGBTQ and/or find themselves marginalized in Buddhist communities (including because of disabilities). We invite those with the capacity to donate to generously support this course. Teachers will also be supported by voluntary donations (Dana).
Schedule
The first six weeks will include discussions of individual chapters of David's latest book "Ecodharma: Buddhist teachings for the ecological crisis". The next six sessions will include discussions on the inseparability of climate crisis and racial injustices and will be anchored in work of frontline and mainstream climate movement leaders and principles of social permaculture. Each week two participants will present an overview of chosen readings each week and this will be followed by facilitated discussions. 
Application period is now CLOSED for 2020. Please check again next year!
We fill this form for submitting application. We always hope for a diversity of age, geographical, racial, faith and organizational backgrounds. If you have any questions, please email davidrobertloy AT gmail DOT com or kritee AT boundlessinmotion DOT org.