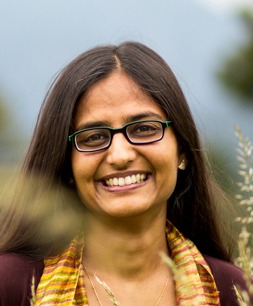 Kritee and Imtiaz started meditation (koan) training about 18 years ago. Kritee has now been leading Boundless in motion (BIM) sangha since 2013 as a priest (Osho) and teacher (Sensei) in the Rinzai-Obaku Zen lineage of Cold Mountain. Kritee and Imtiaz are founding members of Eco-Dharma Sangha, a group of meditation practitioners of different traditions who are seeking ways to bring the fruits of their practice to climate and other ecological crisis which have psycho-spiritual roots. In addition, Kritee serves on the founding board of Rocky Mountain EcoDharma Retreat Center. She is a faculty and steering group member of Earth-Love-Go, an emerging community of activists, teachers, writers, scientists, artists, and meditators who use contemplative tools and insights to support and energize our environmental advocacy.
Kritee works as a senior scientist in the Global Climate Program at Environmental Defense Fund while Imtiaz is the Climate Lead for USGS's North Central Climate Science Center and works for the Western Water Assessment at University of Colorado and NOAA-ESRL (Boulder). Kritee is helping implement environment and climate-friendly methods of farming at large scales in India with a three-fold goal of poverty alleviation, food security and climate mitigation and adaptation among small scale farms. She is trained as a microbiologist and biogeochemist at Rutgers and Princeton Universities, and has done over ten years of research on mercury pollution (See Kritee's CV for details).
Imtiaz assesses regional scale climate change, with an emphasis on high elevation regions such as the Tibetan Plateau, through climate observations and models. His current interests include development and communication of actionable future climate change scenarios for natural resource management; working closely with different agencies including The Nature Conservancy (see Imtiaz's CV for details).
Both Kritee and Imtiaz are certified permaculture designers. Being natives of India, they have remained inspired by the historic Bhakti/Sufi movements and leaders like Gandhi, Vimala Thakar and Dalai Lama who have consciously explored the interface of spirituality and socio-political action. Kritee was raised in a Hindu-Jain milieu in the family of Gandhian freedom fighter Mool Chand Jain and Imtiaz in a progressive Islamic tradition.  They both continue to be beginners while receiving teachings of contemplative traditions in all directions and engaging with social-political and environmental life-koans of our times! Inspired by eco-philosophy of Joanna Macy, Kritee practices her artistic license as a dancer to express her emotions around environmental crisis and social injustices.
To contact us, please email Kritee at kritee at boundlessinmotion dot org and Imtiaz at imtiaz at boundlessinmotion dot org. You can also find us on Facebook (Boundless in Motion or KankoKritee), Twitter (@KriteeKanko) or Instagram.