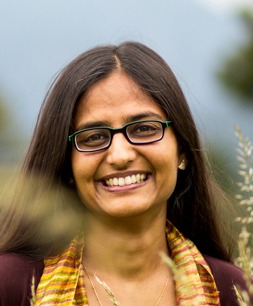 Kritee (dharma name Kanko) is a climate scientist, Zen priest, educator & founding dharma teacher of Boundless in Motion. She believes in identifying and releasing our personal and ecological grief and bringing our gifts into strategic collective actions for societal healing. She is committed to learning from and bringing dharma to young adults, permaculture communities, LGBTQ, black, indigenous and other people of color. She is a sensei in the Rinzai Zen lineage of Cold Mountain and a co-founder of Rocky Mountain Ecodharma Retreat Center as well as Boulder Ecodharma Sangha. She has served as faculty for Earth-Love-Go (Lama Foundation), One Earth Sangha and Shogaku Zen Institute. As a senior scientist in the Climate Program at Environmental Defense Fund she helps implement climate-smart farming at scale in India. She is trained as a microbiologist and isotope biogeochemist at Rutgers and Princeton Universities (See academic CV). You can access her talks and articles here. Please email her at kritee at boundlessinmotion dot org.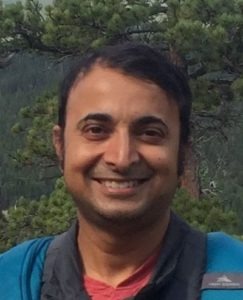 Imtiaz Rangwala has also been practicing Zen for ~20 years and is a senior student in the lineage of Cold Mountain Zen. He is also a co-founding member of Boulder Ecodharma Sangha. He loves to nurture community through his love for cooking and gardening. Professionally, he is the Climate Lead for USGS's North Central Climate Science Center and works for the Western Water Assessment at University of Colorado and NOAA-ESRL (Boulder). He assesses regional scale climate change through climate observations and models. His current interests include development and communication of actionable future climate change scenarios for natural resource management, working closely with different agencies including The Nature Conservancy (see this page for details).
Both Kritee and Imtiaz are certified permaculture designers. Being natives of India, they have remained inspired by the historic Bhakti/Sufi movements and leaders like Gandhi, Vimala Thakar and Dalai Lama who have consciously explored the interface of spirituality and socio-political action. Kritee was raised in a Hindu-Jain milieu in the family of Gandhian freedom fighter Mool Chand Jain and Imtiaz in the Islamic tradition of progressive Dawoodi Bohras.
Dale Gaar spent his childhood in Iowa. He moved to Fort Collins, Colorado for college and to work for acute inpatient mental health, alcohol treatment and community corrections programs. Dale was in Ithaca, New York for law school and came back to Colorado for his law practice which focuses on representing individuals dealing with the trauma of physical injuries or civil rights violations involving inability to access governmental services and employment as well as race-based discrimination, gender-based discrimination, and free speech rights. Dale has also served for many years on the board of directors of the Center for People with Disabilities (CPWD) in Boulder, a nonprofit independent living center that provides a broad range of services to support people with disabilities to live independently in the community.  He has lived in Boulder for many years. He and his wife Rayma raised two sons who are now adults and both practice meditation with Boundless in Motion sangha. Dale advises us on legal and financial issues.
We seek advice of our friends in the Yet-to-be-named network, Denver Permaculture Guild, Rocky Mountain Ecodharma Retreat Center, Boulder Ecodharma Sangha steering committee and an ever widening circle of collaborators to plan our ongoing events.
Disclaimer: We don't endorse any actions/approach of professional organizations that we are associated with. Similarly, none of the organizations that employ us endorse actions/approach of Boundless in Motion, YTBN network, Boulder Ecodharma Sangha or Rocky Mountain Ecodharma Retreat Center with respect to social justice and ecological crisis.